March 30th
Congratulations to Ben on his 2:47:54 clocking in the Round the Bay 30km on, slashing several minutes off his PB. Great job Ben!
Further south, Erik won his age group in the Ocala HITS Olympic triathlon by more than 18 minutes, setting the fastest swim time overall and the fastest bike and run splits in his age group.
April 4th
Congratulations to Lynn and Sharon in the Spring Run Off 10km. Both set new PB's. Great job.
April 27th
Congratulations to Ben on yet another PB in the Mercedes 10km, where he ran a 46:33. Congratulations also to Morgan on his PB of 36:52 for 3rd in his age group.
Further south, competing at the St Anthony's Triathlon, Congratulations to Stephanie on her PB in the Olympic event and also to David, for his 2:07:39 clocking, for 2nd in his age group: that time included a 59:46 bike split (fastest in his AG). Great job David and Stephanie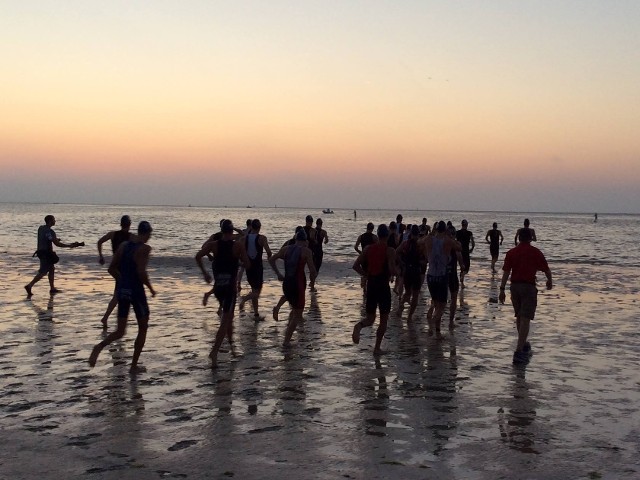 Swim start at St Anthony's Triathlon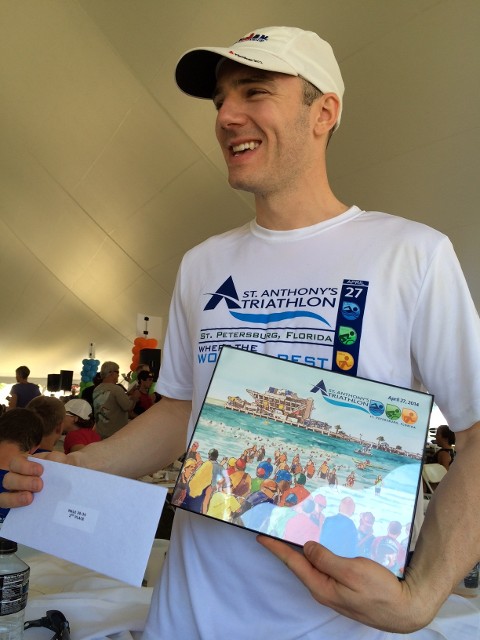 David collecting his 2nd place AG award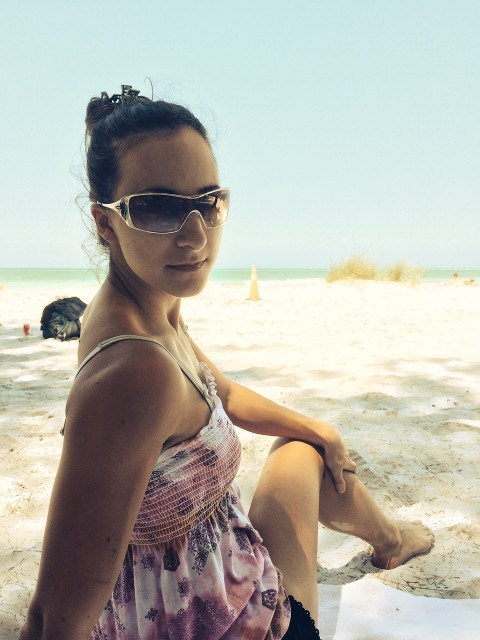 Stephanie on Fort de Soto Beach the day after the race.
Erik also raced in St Anthony's (his 4th time racing there). He won his age group in 2:12:36 after setting the second fastest swim time, second fastest bike and fastest run.
May 4th
Congratulations to Ashkan on his second PB of the year at the BMO Half Marathon in Vancouver, where he ran a strong 1:44:42. This was Ashkan's last race before heading off to the Big Island of Hawai'i, where he will be racing the Honu 70.3. Great job Ashkan.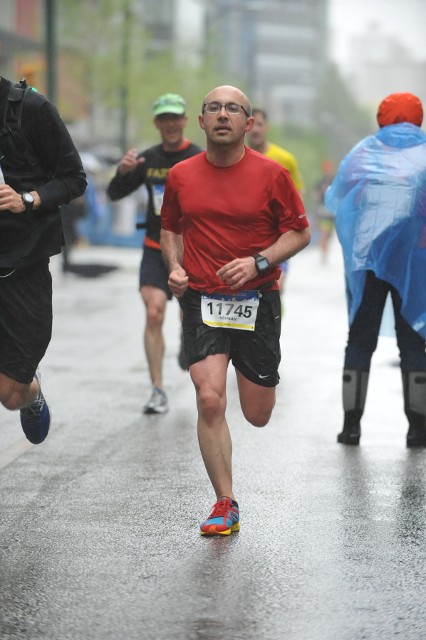 Ashkan racing through the streets of Vancouver
Congratulations to Lynn on her second PB of the year at the Goodlife Half Marathon, where she clocked a stellar 1:45:05. This time augers well for the Mont Tremblant 70.3 in June. Great job Lynn!
May 18th
Congratulations to David and Francois for completing the very hilly (>8,000 feet of climbing) New York Gran Fondo - all 160 kilometers of it. Great training for IM and, in for the Alpe D'Huez Triathlon, which is where Francois is headed later this summer.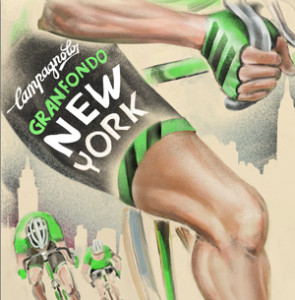 May 29
Congratulations to Ashkan on his 7:05:27 finish in the Honu 70.3 on the Big Island of Hawaii. Great job Ashkan!
June 8
Congratulations to Sharon for her strong 1:18:00 in the Bread and Honey 15km. Great run Sharon.
June 29
Congratulations to Stuart on his 12:13:19 finish at Challenge Ironman in Atlantic City
Congratulations also to David on his outstanding 9:38:43 finish and 1st place 30-34 AG. Great job David
July 27
Congratulations to Ben for his strong 5:34:14 finish in the Calgary 70.3.
August 17
Congratulations to Stephanie on her 15:06:06 IM finish in Mont Tremblant. Great work out there Stephanie.
August 24
Congratulations to Chris on his phenomenal IM debut at the Kentucky IM. In horrific heat, Chris pulled out a fantastic 11:38:36 finish for 38th in his AG. Truly impressive Chris!
September 7
Congratulations to David on his stellar 4:42:08 finish in Muskoka 70.3 and 15th place overall.
Congratulations to Lynn for her finish in the World 70.3 Championships in Mont Tremblant.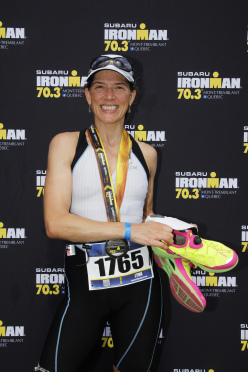 October 26
Congratulations to David on his excellent 1:21:42 finish in the Niagara Half Marathon for 6th place in the 30-34 AG
Congratulations also to Darren for his 4:35:08 finish in the full marathon. Great job Darren